New Member Highlight - Michelle Cox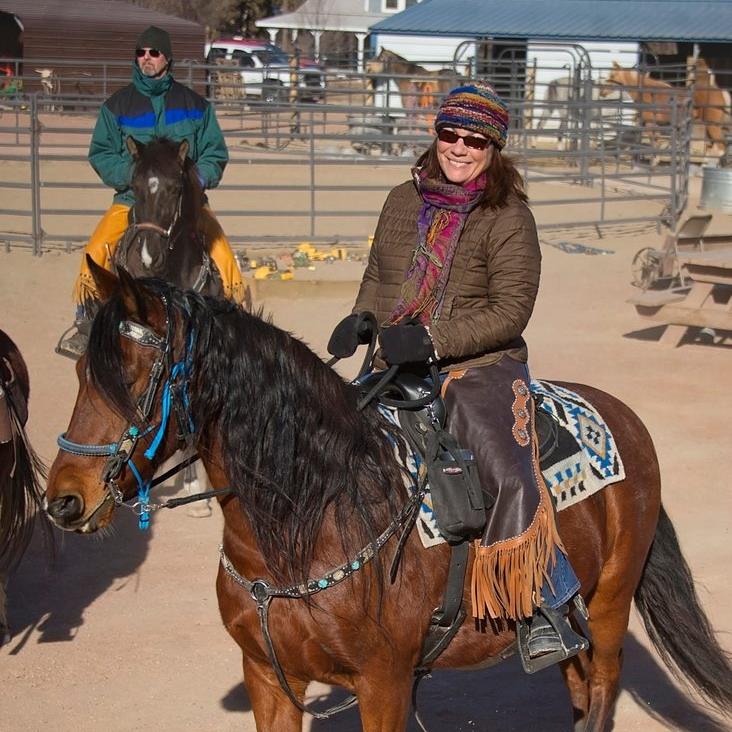 By Michelle Cox
Hi, I am Michelle Cox and I live in Penrose, Colorado with my husband Steve (also a Paso rider) and my daughter Keely.
I was one of those horse crazy girls. In fact, I never had a doll. I had horse statues to play with. My mother knew that a sure fire way to get my attention when we were on a trip was to say "there is a horse" and I would pop right up to look out the window.
My dad was career Navy so I was never in one place long enough to have a horse until Dad retired when I was eight years old. We moved to Arkansas, where dad was from, and I got my first horse. Well, a pony actually. Big Bees Brown Betty was a registered Shetland and a prime example of all of those horror stories that you hear about ponies. We had the money for the pony and a bridle, but not a saddle. So my first experience riding was bareback and that is still my favorite way to ride. I've been bucked off, stepped on, clotheslined, scrapped off on barbwire fences and spent quite a lot of time hanging under a pony or horses neck. I loved every minute of it.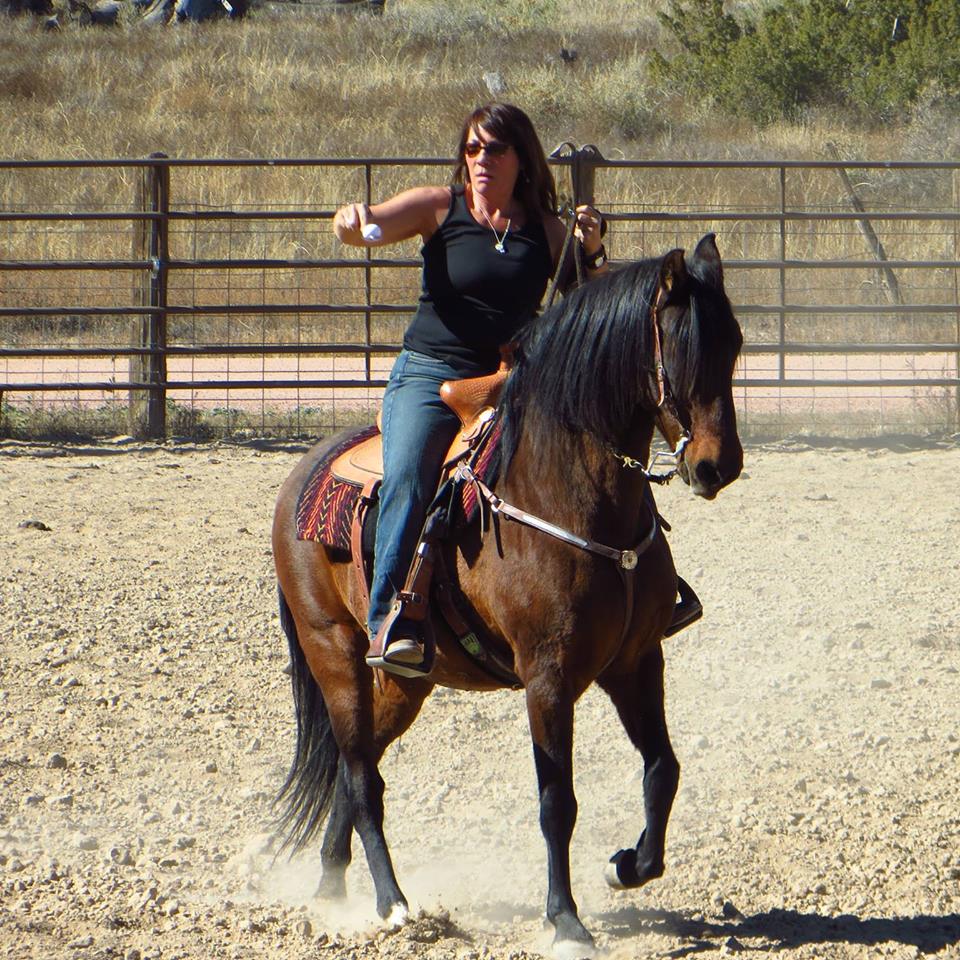 When we moved to Little Rock we bought a house a couple of houses down from a man I called Grandpa. He was 82 when I first met him, and was a true old time horse trader. He had spent time in the "pen" for moonshining, and told me stories of "courting" and riding ten miles each way to attend a dance. Until I moved to Colorado the knowledge I had about horses and training was very "old school."
He sold me my pony and laughed gleefully when I bit the dust. When I started learning how to stay on, he would put me on most of the horses he bought, then sit back and see what happened. Some of those experiences ended well, some not so much. I've not had any broken bones, but I've had hoof prints on my stomach, horses fall on top of me, concussions, more than I can count bruises and scrapes and a lot of really close calls.
I had no one in our area to ride with so I took off on my own as often as I could. I read a lot, so my poor horses were the guinea pigs on some experiments. I would put a piece of hay twine around my horses' jaw (Indian bridle you see) climb on bareback and take off exploring the woods. It was a great way to grow up.
When I turned 16 I sold my Thoroughbred/Quarter horse cross and bought my first car. It was one of the worst days of my life but I couldn't ride my horse to work. I was able to have a Polish Arabian gelding for a few years as an adult, but he was given to a friend when we sold our farm and moved into town.
My husband Steve and I met in Little Rock where I had a martial arts school. We knew that we would have to move because of his career, so in 2010 I sold my school. That same year he received a job offer at the Pueblo Chemical Depot. He retired as Air Monitoring Manager in August of 2015. I am so very fortunate that he shares my love of horses and trail riding.
I first discovered the Paso Fino breed when we moved to Colorado in 2010. I told Steve I would live wherever we needed to live as long as I could have horses again. We bought a house and 10 acres in Penrose, which is a really quaint, rural horse community. Human population about 4,000, equine population triple that. We love riding out from our house and meeting friends, riding through town and stopping at a couple of restaurants where we can tie up our horses and have a meal, or even listen to live music during the summer. How cool is that?!
After we bought our house in Penrose I saw an ad on Craigslist for a bay 20 year old Paso Fino gelding. He looked so much like the Polish Arabian I had before that I had to go see him. First I googled "Paso Fino" which really did not prepare me for what I experienced the first time I saw and rode Maestro.
He had been purchased a few months earlier by a lady that wanted to use him for trail riding. She told me he was "like a Ferrari and way too much horse for me". I fell in love with him at first sight when he was standing there patiently. That was the only time he fooled me on that standing patiently act. Her daughter rode him first around their yard. Then I got on him. "Riding a Ferrari" is a very good description of that first time on Maestro. His neck arched, and his feet started flying. He had spirit, speed, lighting quick reflexes, and was beautiful…I was hooked. I had no idea what I was getting into.
We think Maestro was one of the burned out show horses that were dumped in Colorado by some unscrupulous owners and breeders a few years back. We don't have his papers and it's not worth doing DNA to find out. It took me two years to get that horse to walk. It is still hit and miss on the walking thing. But boy can he gait and is he ever smooth! We had some epic battles. But I love him fiercely and he will always have a home with us. I can be stubborn and a slow learner, and it took me several years to admit that Maestro was never going to make a safe trail horse. He has improved a lot, but it is not something he enjoys and frankly at his age I'm not going to force him. As one of my friends said "I thought he was just some grade horse in your pasture, I didn't realize until you rode him that he is a parade horse". Yes, that is my Maestro, a parade horse. Unfortunately, sometimes he is in a parade all by himself in the middle of nowhere and that is not so much fun.
Two years ago my life changed when I convinced Steve to get a horse so that we could ride together. Until that time, I had no truck or trailer so I was limited to riding around town or begging a ride from a friend. We found Rio on one of the horse internet sites. I contacted his owners Ken and Denise Bachman (former GWPFHA members) and made arrangements to meet him and try him out because Steve was working that day.
They had snow around their place. And as I climbed into the saddle I remember thinking "this might not be such a good idea". I had fractured ribs from getting bucked off a friends horse the previous weekend. Maybe the concussion from the horse wreck clouded my good judgement?
Well those little Paso feet were doing their dance on a very icy road. All I could think of was how bad it would hurt if we happened to go down. So it was a very short ride. I told Ken and Denise that I liked him a lot, and if it was for me I would buy him in a heartbeat. But I didn't know what kind of horse Steve would want.
The next day we drove to an open space for Steve to try him. As they came dancing back from his trial run Steve had a huge grin on his face. We know now about that "Paso Smile" but that was the first time I saw it. We bought Rio on the spot.
The next day the Wrangler was traded for a truck. Two days later we bought an old beat up two horse bumper pull trailer. Two days after that Rio was delivered and life has never been the same. We have ridden areas in this beautiful state that we now call home that I thought only existed in movies.
Our two old guys, Rio and Maestro are now semi-retired. We felt we needed something younger since we do some pretty long rides.
This time last year I was in Chattanooga, Tennessee meeting my heart horse. I'd put out on Facebook that I was looking. A Facebook friend in Memphis, Barbara Taube, told me about a lady that had wonderful horses but did not advertise. I called Terry Thompson and told her what I was looking for. She thought she might have one that would fit, but she had to think about it because Colorado was a long way from Tennessee and if it didn't work out she would want the horse back. I called her the next day, she agreed to consider selling me a horse, and I made arrangements to visit her for three days and try him out. As an afterthought she mentioned she might have another one for me to look at.
Terry can no longer ride, but was very involved in showing and breeding Paso Finos. We really hit it off, and spent hours and hours talking. She had me try Cha Chi first, and then Bali. Neither of these horses had been ridden for several years. Her husband Bill brought them up, saddled them for me and I got on. No round pen, no work, just get on and ride.
That evening Terry told me "Michelle, I have to be very honest with you. Cha Chi is not the horse for you. Bali is. And I never thought I would sell him, but you two belong together". She cried. I cried. Bailador de Savannah was the first foal born on Bill and Terrys farm and has a very special place in their heart. There is an oil painting of him in their living room. He was trained by Larry Whitesell and Cary Hardiman and is truly a special horse. Terry even had Cary Hardiman come to her farm and work with me and Bali to make sure I had a good foundation on him before bringing him to Colorado. While Terry can't ride anymore, she is with me and Bali every time we go on a ride. Facebook is a wonderful thing.
So one year ago in April my great friend Helena McIntosh (former GWPFHA member) was coming back to Colorado with an empty horse trailer. She had moved from Penrose to Tennessee and was actually one exit away from Terry. Bali arrived and was a little bewildered but adjusted quickly. We have had some memorable rides and I'm looking forward to growing old with this horse.
The same lady in Memphis, Barbara Taube, told me about another Paso for sale when we were looking for a younger horse for Steve. Eclipse (Clipper) is a 13 year old Paso and made the journey to Colorado from Memphis last fall. If you want to see Steve Cox light up, ask him about his horse Clipper. Then get ready to listen to him sing his praises!
I have done some clinics with my friend Heath Marshall, who used to laugh at how I held the stick upside down and couldn't get my hands to coordinate. I'm still not much better to tell you the truth. I participated in the clinic Lisabeth Wachuka put together last year with Laura Amandis in Pueblo. That's the extent of my training, so the idea of riding is a show is frankly terrifying. I have so much I want to learn and but I will readily admit that my horse knows more than I do.
One of my bucket list items is to ride in the Bryce Canyon area of Utah. Looks like that item might get checked off the first part of June as we will join the Utah Chapter for their Red Canyon Ride.
As the new Representative for the Colorado Chapter of GWPFHA, I am incredibly excited about this year. We are looking forward to more rides with our old friends, making new friends and exploring more of this beautiful state. Steve and I are both retired and can now travel and ride. How incredibly lucky we are and we are going to take full advantage of this time in our lives.
Picture Top Right is Michelle on Bali. Picture on the Left is Michelle on Maestro.