Get your membership in early!
Please Click Here to Vote On-Line!

If you are interested in learning more about NATRAC contact Diana Marquardt: horsescycles@comcast.net
NATRC Ride Schedule - Click Here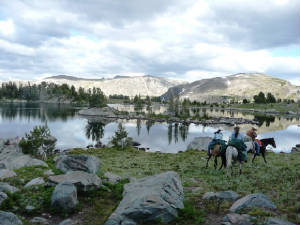 Brunsdale Family Adventure
by Kenley Brunsdale
Our annual wilderness adventure this year was the most ambitious we have ever attempted - 8 day trip into the Beartooth Wilderness of Montana. The Beartooth Range extends from the northeast corner of Yellowstone.
The trip consisted of a 25 mile ride (in one day) up the West Fork of the Stillwater River – up onto the Lake Plateau. From a base camp, we then explored a dozen lakes with fabulous fly fishing for four days. Then we crossed the divide and came down along the Main Fork of the Stillwater River (28 miles) over the course of 2 days. We were virtually alone for the entire trip. This is the most pristine wilderness we have ever explored.
And of course, our Paso's did the whole trip over every kind of terrain – including some 6 hour climbs - with no shoes and only the forage they could graze around the places we camped. No other kind of horse can perform like a Paso in the mountains – not even a mule.
Douglas County Open Space
September 5 ~ Ride at Chatfield - Cancelled - contact Viveka for more info.
October 9 - 11 3rd Annual Sedona. Contact Glenn Davis at 623-931-1337 or glenn@ranchodeladama.com This is a GWPFHA Sponsored Event.
October 16-18 Touch Level 4 Loveland, CO contact GW member Raian Kaiser, equinetouchinfo@yahoo.com, 970 203-0725
October 24-25, 2009 3 Day Eventing ~ Safety Clinic Friday, October 23--Dressage ~ Stadium Jumping ~ Cross-Country~Future Event Horse Halter Class
"ALL BREEDS WELCOME, GAITED OR TROTTING"
Hosted by Windy Ridge Equestrian, Kiowa, Colorado
Contact: Lisa Bialy, lbialy@myedl.com
www.gaitedhorse3phase.com
click here to download file - ride waiver
Celebrating Marisol! Rojo's new filly!


Esperanza Paso Fino

Ellie B


Celebrating Summer Vacation!
Nancy Wenlock


First Ride on her new horse Durango

Love at first site!


Nancy and Durango

Anni Howell and Charlie



 
 
 
Carmella and Rosita
Colorado
Jennifer Hardwick and Paso Posse!
The Jaguar of vehicles!!!!

Our New Chapter President
Viveka Mason